CampusParc Management Inc. leaders are making an impact
Oct 5, 2022
CampusParc is proud to recognize Lisa Burke and Matt Burgdorf for their outstanding achievements.
The National Parking Association (NPA) recently named Lisa among the parking industry's best and brightest young professionals for the 2022 class of the NPA's 40 Under 40. Lisa has been in the parking industry for over eight years, escalating leadership responsibilities within SP Plus and LAZ Parking before rising to her current role within CampusParc. Her passion for sharing knowledge and creating and enabling growth opportunities within her team set Lisa apart from her peers. It ultimately solidified her spot amongst the top 40 young professionals in the parking industry. Lisa received her award at the NPA Convention and Expo, which took place September 18-21 in Austin, Texas.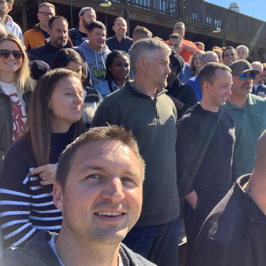 The 2023 Leadership Columbus Signature Program selected Matt for the 10-month experience that annually chooses "55-65 individuals to build a class representative of the Greater Columbus area. The result is a class of professionals ready to hone their leadership skills and talents and connect them to community causes about which they are passionate." The program focuses on the significant challenges to the Central Ohio region and gives participants the tools they need to become active and influential leaders in the community. Matt aims to utilize this experience to become a better connected and engaged leading citizen within the fabric of Columbus. This opportunity will also assist his career role of partnering to improve the parking and mobility ecosystem in and around The Ohio State University. The Signature program began in September and will continue through June 2023.
"Our company strives to create and maintain an innovative team culture, and both Lisa and Matt demonstrate this daily through their work and interactions with others. I am pleased to see them recognized for their efforts," said Sarah Blouch.
Please join us in congratulating them both! We look forward to seeing their hard work in action.